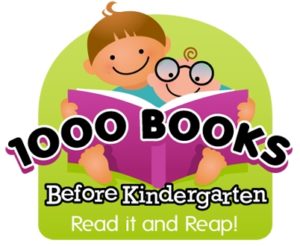 The 1000 Books Before Kindergarten is a great initiative that will help your young children to begin to read. Since it has no official start date any child, from birth to entering kindergarten, can start anytime. The goal is simple; read a 1000 books before your child enters kindergarten. Along with an app to keep track of the books read, and the help of your library, reading 1000 books will be a piece of cake.
How to get started:
Inform Hamilton County Library that you would like to start the 1000 Books Before Kindergarten Challenge.
Read the book Thousand Books Before Kindergarten; A Promise, A Pledge and take the Pledge along with you child to start and finish the Challenge.
Download the 1000 Books Before Kindergarten app, or get a book record from Hamilton County Library.
Start Reading!
It might sound daunting but its really not! Any book that your child reads or listens to, counts toward the goal. This includes books that they hear at preschool or at a relatives house. Also, you can repeat the same book multiple times. If you read 1 book a night; five times a week; for the whole year; you will read 260 books a year. This means you could accomplish your goal in five years. If you read 3 books every night of the week; it will only take 1 year.
Don't worry, Hamilton County Library can help you meet your goal! The books that are read at children programs count toward your goal. For more helpful tips, Hamilton County Library has put together a convenient form, or feel free to call the library any time to learn more.
The 1000 Books Before Kindergarten Sheet can also provide help in getting started. Also, available is their suggestion list of books to read to your child before they reach Kindergarten.
Children Who Have Finished 1000 Books Before Kindergarten
Asher and Beckett Battin- August 2018

Jackson and Blair Brady – February 2018

Emma Simon – December 2017

Cooper Brucker – May 2017

Mia Boy – January 2017

Bentley and Brody Simon – January 2019