Hamilton County Library offers several exciting and engaging programs and events that allow teens opportunities to have fun and to become leaders in their communities.
Teen Events
Hamilton Count Library offers several Teen Events that take place throughout the year.
Fright Night- TEENS!! Have you ever wanted to spend the night watching scary movies? Now is your chance! Watch some scary movies at the library.
All Night Movie Marathon-Who doesnt want to watch movies all night? Each year Hamilton County Library will host an All Night Movie Marathon at the Northrup Movie Theater.
End of the Year Event-teens gather one more time to celebrate the ending of the school year
Watch for more information for these events throughout the year.
Library Leadership Group
The Library Leadership Group (LLG) is a Teen Friends Group of the Library. It is the only youth library friends group in the state, with participants from the junior high and high school. The group meets monthly throughout the school year. Goals for the group include: library advocacy, fundraising through membership dues, volunteering for a community project, and helping with teen events hosted by the library.
2017-2018 Library Leadership Group

2016 – 2017 Library Leadership Group
In recent years the group has promoted teen events hosted by the library, acted as a book advisory board for teen title selections, volunteered to deliver VIP meals, provided support and activities for youth at a local Suicide Awareness Run/Walk, donated money to community events, and volunteered during the library's summer program. For the 2018-2019 school year, the group has committed to promoting the S.A.F.E (Seatbelts Are For Everyone) program, a partnership with the Kansas Traffic Safety Resource Office.
LLG was awarded the 2017 Outstanding Friends Group Award, presented by the Friends of Kansas Libraries. They were recognized at a special reception at the library and during the annual FoKL luncheon at the state Kansas Library Association Conference in Wichita. They were selected based on their uniqueness, having projects that benefit the community, creativity of projects and activities, and having a positive and helpful impact on their local library. The group was also selected to present a breakout session at the conference, sharing with others their successes as Teen Friends of the Library Group.
S.A.F.E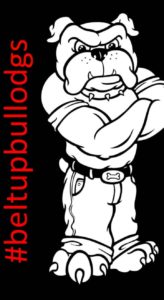 S.A.F.E or Seat-belts Are For Everyone is a program for teen students to encourage their peers to better follow the vehicle restraint laws and seeks to lesson casualties amongst fellow High Schoolers. A survey conducted by safe members early in the school year found that only 63% of drivers were seat belted and 7% of drivers were driving while distracted. It is the goal of S.A.F.E. to better the amount of people who drive with seat belts and who drive safely.  
In order to send positive messages to their school and community S.A.F.E members will be hosting an educational activity of some kind each month. They will also be challenging their fellow students to fill out a pledge card and commit to be better and safer drivers. In order to find out more information about S.A.F.E  contact Hamilton County Library or follow them on Twitter at #beltupbulldogs